School Overview
Founded in 1895, Waseda Junior and Senior High School is a private school with a proud history. This school educates approximately 1,800 boys from Year 7 to Year 12. The campus is located in Shinjuku Ward in metropolitan Tokyo and within walking distance of Waseda University.
We think the six years students spend at this school are an important period from childhood through adolescence. They are divided into three stages. The first stage ( Year 7 & 8 ) is focused on the adaptation to the new environment and the establishment of the lifestyle for learning. The second stage ( Year 9 & 10 ) on the intellectual and physical development. The third stage ( Year 11 & 12 ) on the career guidance and the preparation for university entrance examinations.
To support the students, we use the Homeroom System. Each grade has seven homerooms, so there are about 45 students in a homeroom. Each homeroom is supervised by a homeroom teacher, who oversees their general care. Homeroom teachers are assisted by the head teacher of the grade. Students join such events as Sports Day and School Camping according to their homerooms. Every year new homerooms are formed and students have as many opportunities as possible to know one another.
Almost all the graduates of junior high school can go up to Waseda High School and will study for three more years. This school is affiliated with Waseda University and about 50% of the graduates of high school are recommended to Waseda University. Others take entrance examinations and are admitted to the universities of their choice, such as the University of Tokyo, Kyoto University, Keio University, Tokyo Medical University and so on.
History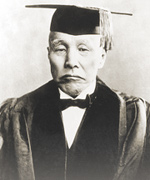 In November of 1895, the year that saw the end of the Sino-Japanese War, Waseda Junior High School was founded by Shoyo Tsubouchi, Umaji Kaneko, and Kenkichi Ichijima, based on the idea of what this school ought to be, embraced by Shigenobu Okuma, scholar and government leader. In particular, Shoyo Tsubouchi , founder of the modern Japanese literature and translator of all the works of Shakespeare, put aside his writing of literary works in the decade following the foundation in order to form the philosophical basis of this school. His lesson remained as a legacy.
In contrast to the philosophy of Waseda University established by Shigenobu Okuma in 1882, encapsulated in the motto "Independence of Learning", this school is directed by the motto "Independence of Character". We hope that students aspire to independence: students have confidence in themselves. This school aims to bring up "individuals who can overcome all the adversities", just like Shigenobu Okuma.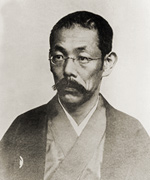 Waseda Junior High School was opened in April 1896 by the staff and students numbering less than one hundred. Afterwards, our school was known for many years by the name of "Sochu". Attached to this school, Waseda High School was established due to the revision of the educational system of Japan in 1948. Waseda Junior and Senior High School have continued to this day.
This school became affiliated with Waseda University in April 1979. The bond between Waseda University and Waseda Junior and Senior High School became even stronger, both of which were founded by Shigenobu Okuma. On the other hand, we shall lead students to be accepted to any university of their choice. This truly reflects the spirit of "Independence", which was expected by Shoyo Tsubouchi when he founded our school.
This school celebrated its centennial anniversary in 1995. The staff have renewed their determination to train the youth to forge ahead in the world full of hopes and hardships in the next century.
Mission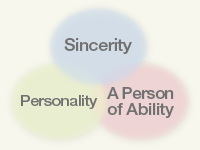 The aim of our education is to develop students into persons of sincere character and to train them into wholesome and democratic people who can improve their personality and contribute to the state and society.
Sincerity
Sincerity is the essence of human nature. Sincerity reveals itself in a person of his word. Our philosophy is "Fostering Sincerity" and this is a lesson from  Shoyo Tsubouchi, who was one of the founding members of this school. Since the foundation, "Fostering Sincerity" has been the motto of this school.
Personality
Independence, initiative and fortitude are the basic elements of good personality. Shigenobu Okuma , the founder of this school, bore all these characteristics. This school will strive to encourage students to acquire these characteristics and improve their personality.
A Person of Ability
Human beings should not be only for themselves. This school will endeavour to train students into persons who can contribute to the world in cooperation with others.